About Godslith
Acquired by Vision Lithium in March 2021, the Godslith Property is located less than 1 km Northwest of Gods River, Manitoba, within and surrounding the traditional territory of the Manto Sipi Cree Nation in the God's Lake area of the province of Manitoba. The Godslith property covers a total area of approximately 5,560 hectares.
The deposit has only been tested to a depth of 243 m where drilling intersected 15.2 m grading 1.49% Li2O. Furthermore, the mineralized zone is recognized over at least 2.3 km along strike, making this an exceptional target for expansion.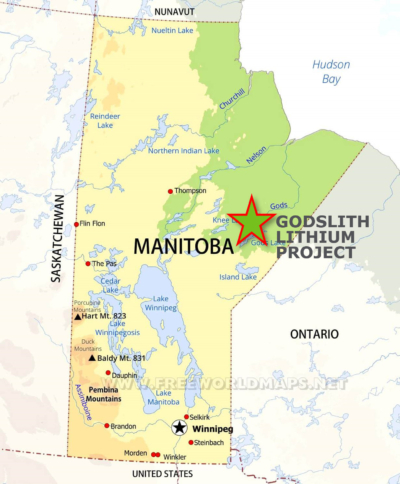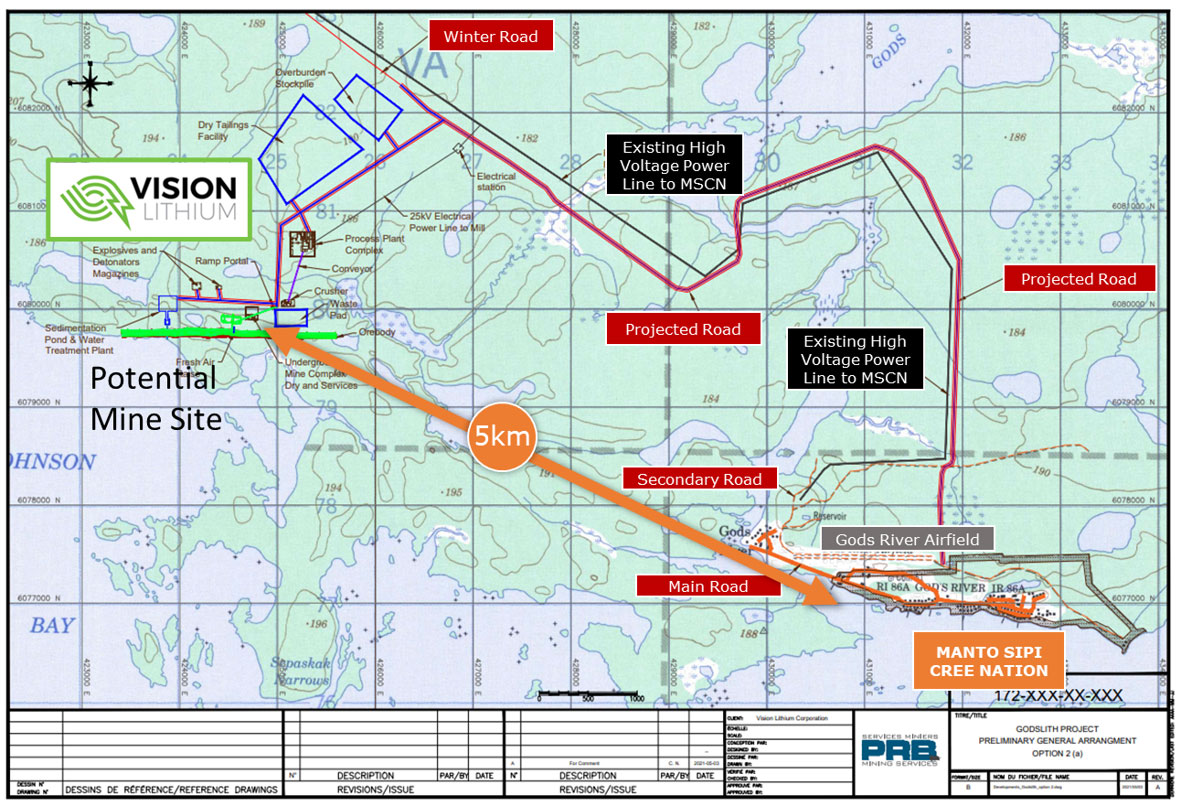 Historical Estimates for the Godslith Property
The historical exploration information presented herein is sourced from an independent technical report on the Property, dated August 26, 2009, that was prepared for First Lithium Resources Inc. by qualified person Mark Fedikow Ph.D., P.Eng., P.Geo., C.P.G. in accordance with National Instrument 43-101 – Standards of Disclosure for Mineral Projects.
The Godslith pegmatite dike is classified as a rare metal spodumene pegmatite. The lithium-bearing mineralization has an approximate 2.3 km drill-indicated strike–length and dips 70 degrees North. The Technical Report details the geological setting of the Property's lithium-bearing pegmatite and reviews the historical exploration results. Between 1958-1961, INCO completed 25 wide–spaced drill holes for a total of 9,421 ft (2,871.5 m). In 1986, W.C. Hood Geological Consulting completed an internal report wherein they reported the following resource estimate:

| | | | | | |
| --- | --- | --- | --- | --- | --- |
| Zone | Resource Classification | Cut-off Grade % Li2O | Short Tons* | Grade % Li2O | Weighted Average True Width (Metres) |
| Upper Zone | Historical Indicated | 0.70 | 4,800,000 | 1.27 | 11.04 |
| Lower Zone | Historical Probable | 0.70 | 4,600,000 | 1.14 | |
*1 short ton = 0.9072 metric tonnes.
While the Company considers these historical estimates to be relevant to investors, as they may indicate the presence of mineralization, a qualified person has not done sufficient work for Vision Lithium to classify the historical estimates as current "mineral resources" or "mineral reserves" (as defined in NI 43-101). The foregoing historical estimates were calculated prior to the implementation of NI 43-101 and the Company is not treating these historical estimates as current "mineral resources" or "mineral reserves".
The Technical Report also provides recommendations for future exploration work and includes an initial program of prospecting and geological mapping followed by soil geochemical surveys designed to assess the area for additional pegmatite dikes and base and precious metals. A diamond drill program has also been recommended for the purpose of extending the lithium-bearing pegmatite on the Property to depths below those indicated by the historic Inco drilling.
Godslith Historical Drilling
Along 2.3 Km Of Strike Length Multiple High Grade Hits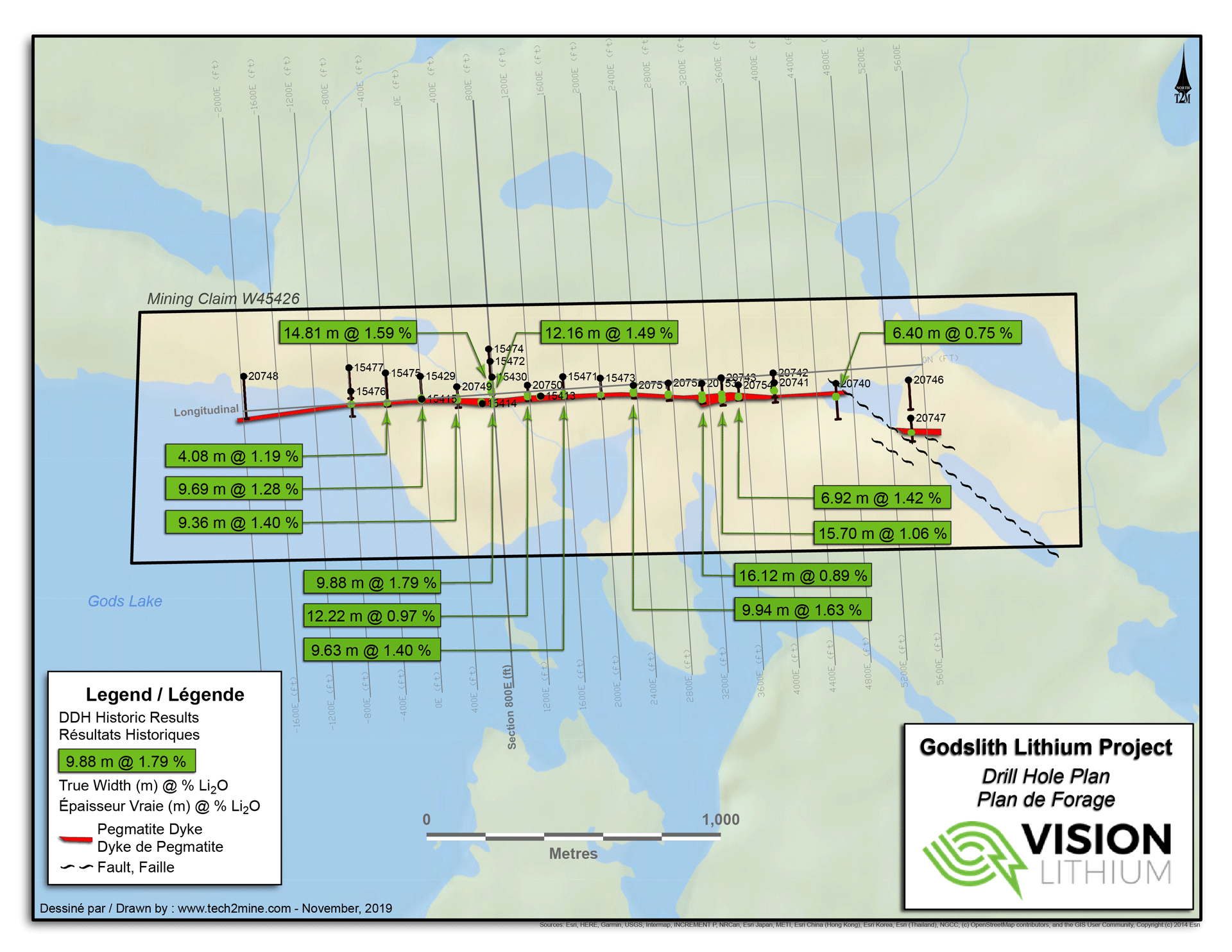 Highlight Historical Drill Results Include:
14.81m @ 1.59% Li2O
12.16m @ 1.49% Li2O
6.92m @ 1.42% Li2O
9.94m @ 1.63% Li2O
9.88m @ 1.79% Li2O
9.63m @ 1.40% Li2O
9.36m @ 1.40% Li2O
Source: Geology and Ore Reserves of the Sherman Lithium Property at God's Lake, Northeastern Manitoba by William C. Hood, P.Eng., 1986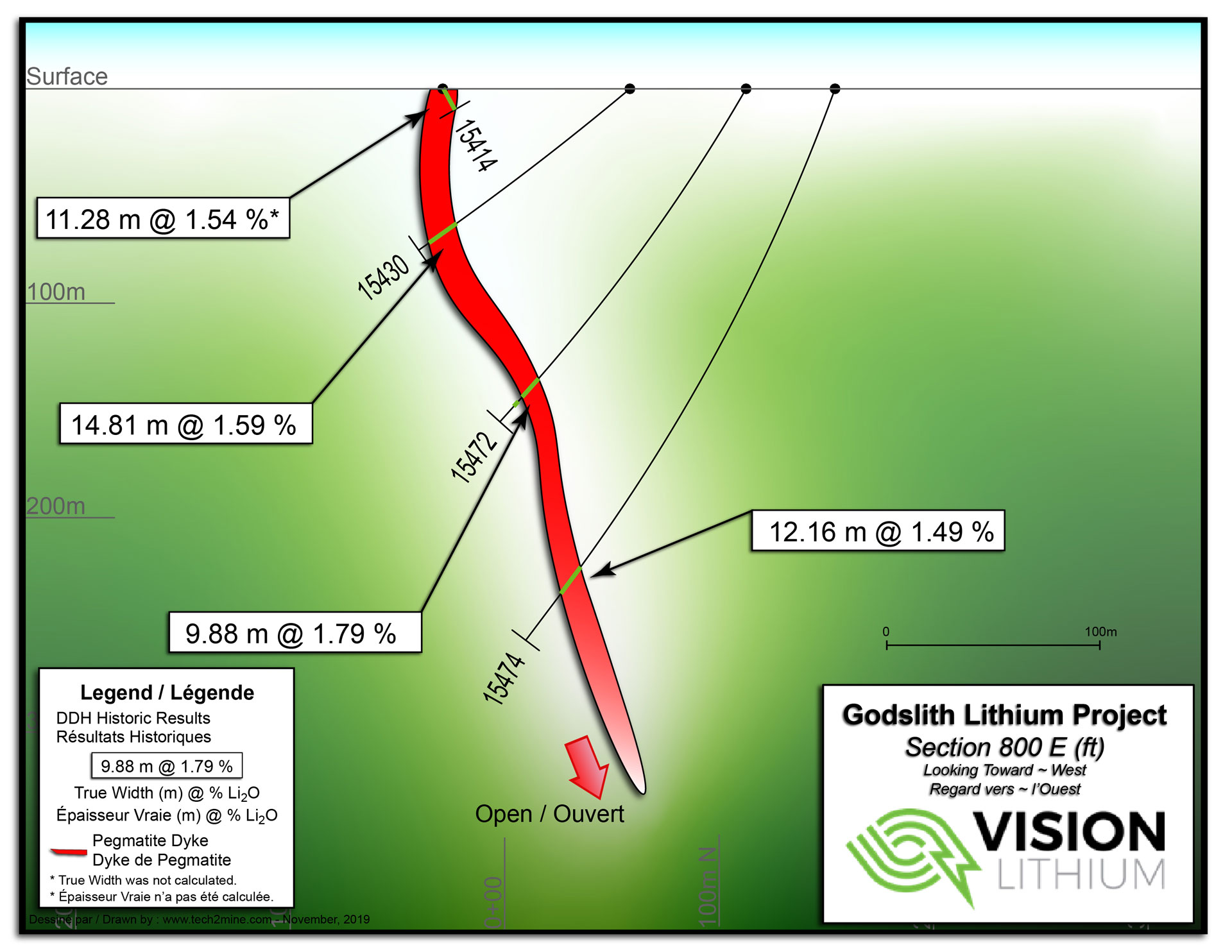 Godslith Long Section Using Historical Results
Lithium Mineralization Intersected at 243m (800ft) 12.18 M Of 1.49% Li2O open to depth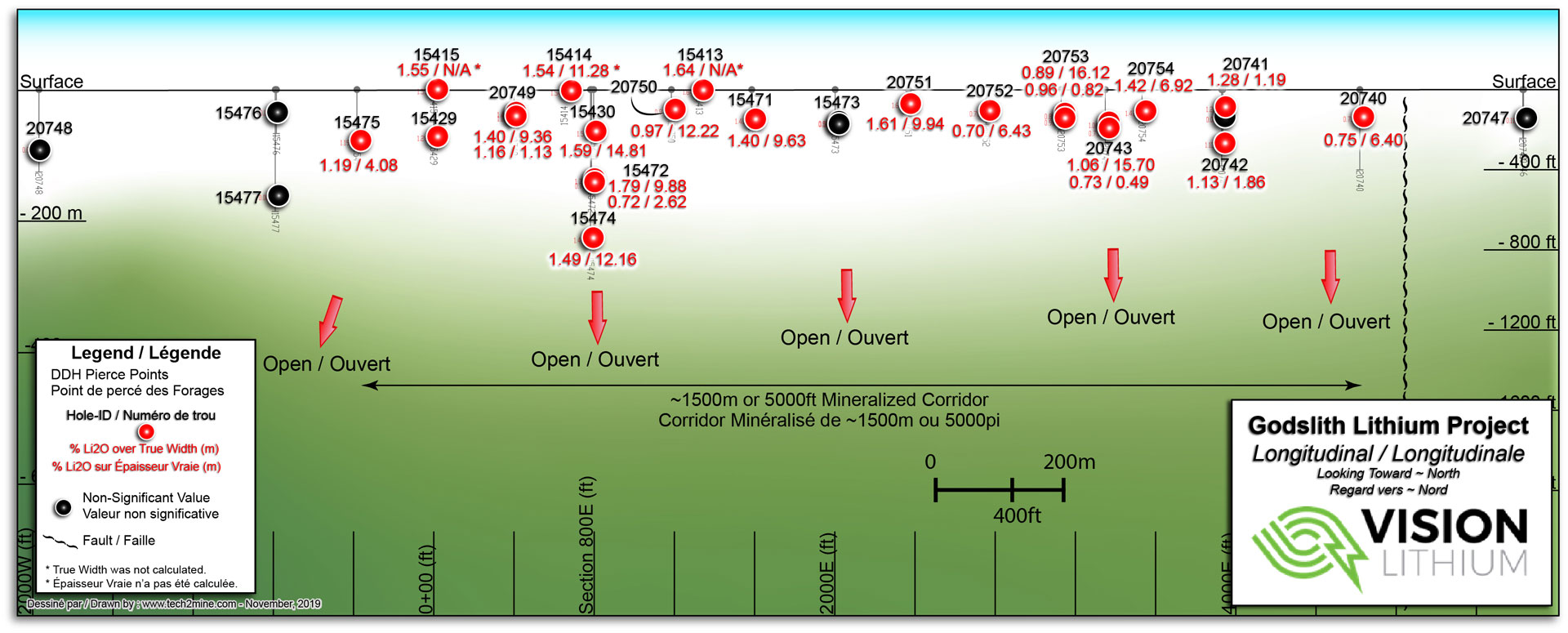 Source: Geology and Ore Reserves of the Sherman Lithium Property at God's Lake, Northeastern Manitoba by William C. Hood, P.Eng., 1986
Sign-up to our newsletter
We will process the personal data you have provided
in conformity with our privacy policy.