About Cadillac
Acquired by Vision Lithium in December 2021, the 100% owned Cadillac lithium project consists of 320 claims and covers 19,070 hectares (191 km2).
The Property is easily accessible by year-round, well-maintained roads and a regional powerline runs parallel to the road through the Property.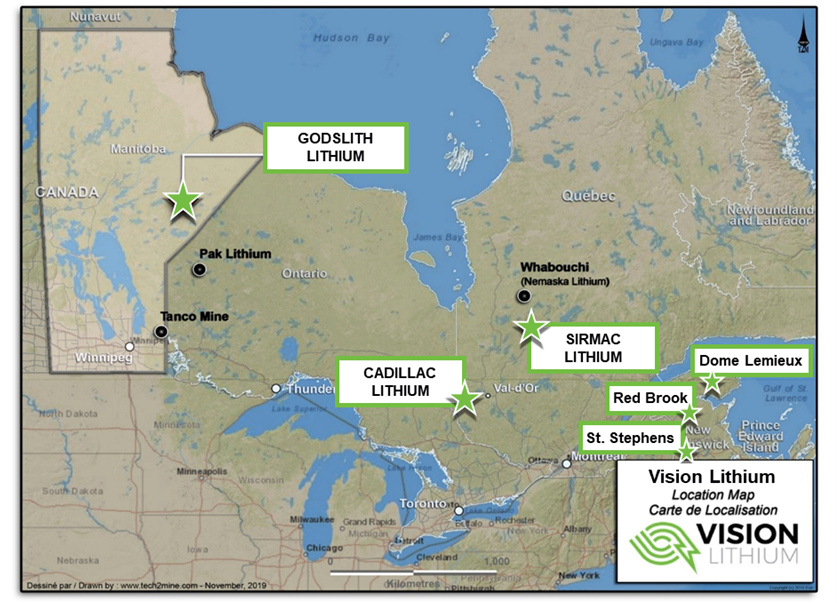 Vision Lithium Property Portfolio
The Property is located 10 km south of the Trans-Canada highway and only metres from the secondary road, ensuring easy access for logistics, materials and qualified manpower. The Property is also located approximately 10 km south of the historical mining town of Cadillac and approximately halfway between the major mining centres of Rouyn-Noranda and Val-d'Or in the province of Quebec, Canada.
Geology
The Property hosts at least 4 pegmatite dikes which are spaced approximately 100 metres apart and traced for at least 300 metres along strike.
The Property hosts a cluster of close-spaced parallel lithium-bearing dikes. Spodumene has been observed in the outcropping dikes and we believe there are likely more dikes in the cluster. The dikes have seen surprisingly little historical exploration with only a handful of samples and no drilling to date. We believe the potential for additional lithium discoveries within the main cluster area is excellent and the larger property also has tremendous upside potential for discovery.
Lithium crystals have been observed in all 4 dikes on the Property, with large lithium crystals visible in some areas. In 2016, two high grade grab samples were taken from the Property that returned 2.67% and 7.34% Li2O.