Val-d'Or, Québec, February 21, 2023 – Vision Lithium Inc. (TSXV: VLI) (OTCQB: ABEPF) (FSE: 1AJ2) (the "Company" or "Vision Lithium") is very pleased to report it has received the results of a positive Preliminary Economic Assessment (PEA) for the Sirmac #5 Lithium Dike deposit from the Company's independent consultants GoldMinds Geoservices of Quebec, Canada. The #5 Dike is located 160 km by road North of Chibougamau, Quebec, Canada.  The PEA presents a robust quarry/open pit mining operation for direct shipping of mineralized material ("DSO") with very attractive economics at discounted lithium prices.
The Company will host a webinar to discuss the results of the PEA in greater detail on Tuesday, February 21, 2023, at 10:00AM ET / 7:00AM PT. A Q&A will follow the presentation. Register Here
Preliminary Economic Assessment Highlights:
Pre-Tax net present value ("NPV") (discount rate 5%) of C$183.6M, internal rate of return ("IRR") of 839% and payback less than 1 year
After-Tax net present value ("NPV") (discount rate 5%) of C$104.8M, internal rate of return ("IRR") of 484% and payback less than 1 year
Assumed DSO selling price of US$591 per tonne / C$797 per tonne
4 years of mine life with 321,000 tonnes of DSO at 1.33 % Li2O
Revenue of C$253.4M
Life of Mine capital of C$3.1M
Operation cost per tonne of DSO at C$142
Yves Rougerie, President & CEO commented, "The PEA clearly demonstrates the low cost and very high return of the Sirmac Lithium Project using a Direct Shipping mining scenario without prior beneficiation.  The Sirmac deposit has unique and compelling features which make it amenable to early development and extraction. As a result of strong demand and low supply, elevated lithium prices are projected for several years into the future. The PEA focuses on the lithium resource of the #5 Dike alone. We know there are multiple additional dikes, of which several are lithium-bearing, elsewhere on the Sirmac Project which have yet to be drill-tested or fully explored. This offers us tremendous blue sky upside potential and room for expansion from an exploration perspective on the Sirmac Project."
PEA Overview, Description and Location
The Sirmac lithium project (the "Sirmac Project") is located in the Eeyou Istchee/James Bay region (NTS 32J11 mapset), in the northwest region of the province of Québec. The property is approximately 160 km northwest of the town of Chibougamau and 170 km southeast of the community of Nemaska. The Sirmac Project is accessible by the Route du Nord (Northern Road) that starts in Chibougamau.
The project calls for the direct shipping of mineralized material. The base case is EXW Chibougamau (stockpiled in Chibougamau for client pickup). An alternative scenario is also presented herein, the FOB Saguenay scenario where mineralized material is transported to the port of Saguenay and loaded onto ships.
The PEA considers a conventional truck and shovel open-pit/quarry mining operation, where mineralized material is blasted and then loaded onto trucks and transported to the railhead in Chibougamau, Quebec 160 km away. The PEA is based on the mineral resource estimate presented in a technical report titled "NI 43-101 Technical Report:  Preliminary Economic Assessment on Pegmatite Dike #5 Lithium-Tantalum  Deposit; Sirmac Property, Québec" dated February 15, 2023 and prepared in accordance with National Instrument 43-101 – Standards of Disclosure for Mineral Projects ("NI 43-101") by GoldMinds Geoservices Inc. ("GMG") of Quebec City, Quebec, Canada (the "Technical Report").
The Technical Report relating to the PEA will be filed on SEDAR at www.sedar.com and Vision Lithium's website www.visionlithium.com within 45 days of the issuance of this news release. Readers are encouraged to read the PEA in its entirety, including all qualifications, assumptions and exclusions that relate to the details summarized in this news release. The PEA is intended to be read as a whole, and sections should not be read or relied upon out of context.
The PEA is preliminary in nature, includes inferred mineral resources that are considered too speculative geologically to have the economic considerations applied to them that would enable them to be categorized as mineral or ore reserves. There is no certainty that the preliminary economic assessment in the PEA will be realised.
Mineral Resources Estimate
The information gathered by SGS Canada – Geostat in 2014 was used for the new resource estimation with updated economic variables as GMG is of the opinion that the additional data collected in 2018 and 2022 confirm the model or, in some cases, do not concern the Dike studied here, the #5 Dike. The data has been verified in its form, grades, interpretation as well as interpolation parameters and classification and the block model is considered current. As there is no material change in that aspect, GoldMinds' qualified persons endorse the work done by SGS' qualified persons.
Considering the blocks limited to the optimized pit shell and a cut-off grade of 0.50% Li2O, the pit constrained mineral resources including ramp design of the Sirmac deposit are 192,000t of measured resources at 1.38% Li2O, 81,000t of indicated resources at 1.39% Li2O and 49,000t of inferred resources at 1.05% Li2O (Table 1).  The tantalum ("TaO5") values are given from the block values inside the lithium mineralized solids and have yet to demonstrate extractability and economic potential.
These mineral resources do not represent mining reserves since they have not shown economic viability and include inferred material.
Table 1: Mineral Resources for the Sirmac Project with Li2O Cut-off Grade of 0.50% (2023)
Cut-Off Grade
Li2O %
Category
Tonnage
t
Average Grade
Li %
Average Grade
Li2O %
Average Grade
TaO5 %
0.50
Measured
192,000
0.639
1.38
0.0074
0.50
Indicated
81,000
0.647
1.39
0.0081
0.50
Inferred
49,000
0.487
1.05
0.0062
Notes:
The mineral resource estimate has been calculated using the Canadian Institute of Mining, Metallurgy and Petroleum (CIM) Definitions Standards for mineral resources in accordance with NI 43-101. Mineral resources that are not mineral reserves do not have demonstrated economic viability. Inferred mineral resources are exclusive of the Measured and Indicated resources.
Bulk density of 2.70 t/m3 is used.
Effective date January 23, 2023.
Tonnage rounded to the nearest thousand.
Mining & Processing
The PEA assumes conventional open pit truck and shovel mining. Production is designed to use a turnkey contractor where 1,194,000 metric tonnes, including 321,000 tonnes of mineralized material at a grade of 1.33% Li2O, will be mined in four years. The contractor will operate on a 6-month quarry operation basis with a schedule of 7 days per week, 12 hours a day.
Supporting infrastructure on site will include a small administrative building, warehouse, fuel tank, generator and various sea can for material storage. Employees will stay at an existing logging camp located about 20 kilometres by road from for the site.
Figure 1: Overall Site Layout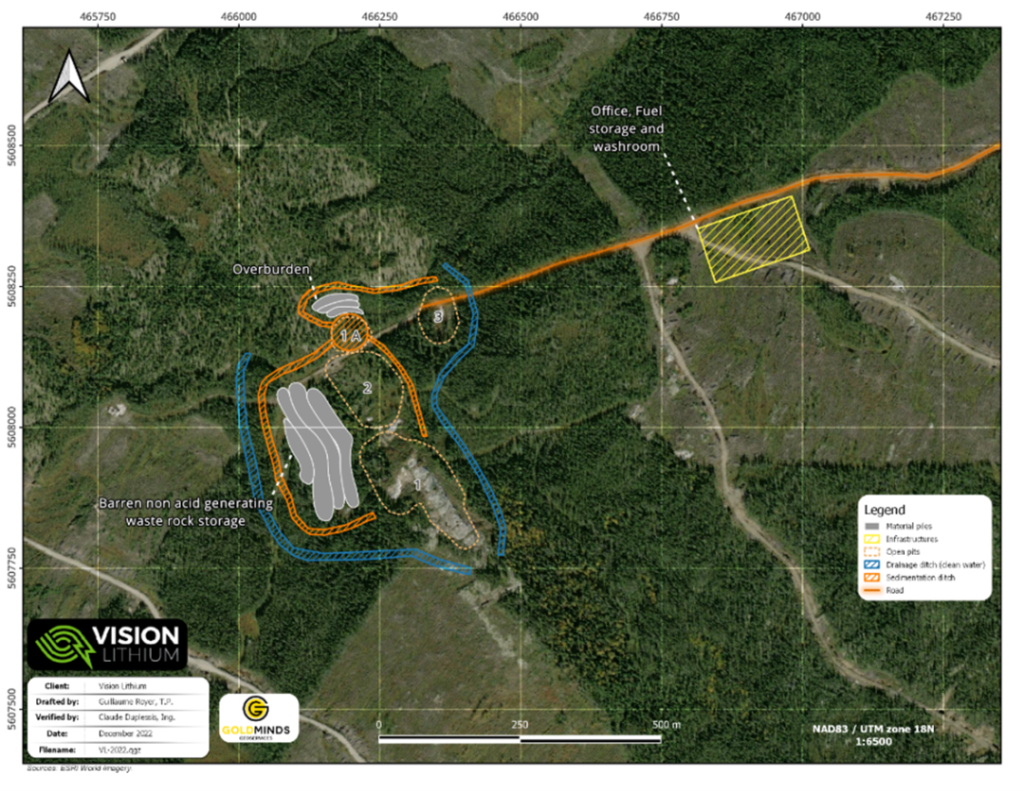 Transport of mineralized material from mine site to Chibougamau will be performed by a contractor. Forestry roads joining the property to the Chibougamau railhead can accommodate heavy load trucks up to 150 tonnes.
As the mineralized material is to be sold as a Direct Shipping mineralized material, the effective recovery will depend on the company and plant which will process the material.
Nonetheless, previous metallurgical testing programs demonstrated the Sirmac pegmatite #5 Dike is suitable to produce a spodumene concentrate grading 6% Li2O and above.
Environment, Permitting and Social
The site is located within the Eeyou Istchee Territory of the Mistissini Cree First Nation, and on the traditional trapping territories of the tallymen who live on the territory. Vision Lithium intends to develop good relations with the Cree Nation of the Eeyou Istchee James Bay Region, and in particular the Cree Nation of Mistissini, the First Nations community whose traditional land use and economic activities may be most directly impacted by the Vision Lithium's development. Vision Lithium views this development in terms of its benefits to the Quebec economy, as well as the Cree communities and the local Chibougamau – Chapais Jamesian communities.
As the project is located in Eeyou Istchee / Baie James territory, the development of a mine would fall under the Northern Quebec Regime for Environmental Evaluation. It is mandatory for a mine project to undergo the Environmental Evaluation Process under the James Bay Agreement. It is a 5 steps process involving consultations and collaboration with the Cree Nation. These steps are: Project Notice, Evaluation, Redaction of the Environmental and Social Impact Assessment, Review and Decision.
Vision Lithium continues to work with its environmental consultants to develop a plan for permitting the Project. The Company will need to develop various environmental studies which are mainly divided as Biophysical Environment: (topography, water quality, air quality, soil and rock characteristics, etc.), Biological Environment (Fauna and Flora) and Human Environment (Socio-Economical impacts and Opportunities). Other planned evaluations for the permitting strategy will necessarily consider mine design, processing, and reclamation plan development.
Capital Costs
The PEA is based on a capital cost summary, in accordance with AACE Class 5 guidelines with an estimated accuracy of +/- 35%, which is shown in the table below:
Table 2: Capital costs EXW Chibougamau (Base Case)
| | |
| --- | --- |
| Description | Cost (C$) |
| Mine capital costs | 500,000 |
| Transfer station dome Chibougamau | 250,000 |
| Infrastructure capital costs | 1,000,000 |
| Closure costs | 500,000 |
| Contingency (15%) | 337,500 |
| Owner costs (10%) | 225,000 |
| EPCM costs (5%) | 112,500 |
| Total initial capex | 2,925,000 |
Operating Costs
Mine operating costs by activity area are shown in the table below.
Table 3: Operating costs detailed EXW Chibougamau (Base Case)
Items

 

Cost
Cost
(C$)
(C$/t ore mined)
Mine operating costs
18,901,000
58.88
Shipping Quarry to Chibougamau
21,995,000
68.52
G&A
4,815,000
15.00
Total
45,711,000
142.40
Table 4: Operating costs detailed FOB Port Saguenay (Alternate scenario)
Items

 

Cost
Cost
(C$)
(C$/t ore mined)
Mine operating costs
18,901,000
58.88
Shipping quarry to Chibougamau
21,995,000
68.52
Shipping Chibougamau to Saguenay port
28,457,000
88.65
G&A
4,815,000
15.00
Total
74,168,000
231.05
*Numbers may not add due to rounding
Economic Model
The main assumptions for the economic analysis and the results are summarized in the following tables:
Table 5: Main assumptions of Economic Analysis
| | | |
| --- | --- | --- |
| Items | Units | Values |
| Li2O spodumene concentrate | US$/mt | 4,100 |
| DSO selling price | US$/mt | 591 |
| Mining (mineralized material) tonnage over LOM | metric tonne | 321,000 |
| Royalty on sales | % | 1.00 |
| Federal tax | % | 15.00 |
| Provincial tax | % | 11.50 |
| Mining tax | % | 16.00 |
*DSO Selling price calculated as follow = Li2O concentrate sell price x ((%Li2O Grade)/ 6.0% Li2O concentrate) x 65% payable
Table 6: Base Case economics
Items

 

Value
(C$)
Total revenue of sales
253,366,000
Total operating costs
45,711,000
Before-tax discounted
(5.0%) NPV
183,576,500
After-tax discounted
(5.0%) NPV
104,752,000
*Numbers rounded
Table 7: FOB Saguenay economics
 Items
Value (C$)
Total revenue of sales
253,366,000
Total operating costs
74,167,590
Before-tax discounted
(5.0%) NPV
167,095,046
After-tax discounted
(5.0%) NPV
99,961,526
*Numbers rounded
Table 8: Detailed Cash flow of Direct Shipping Material to Chibougamau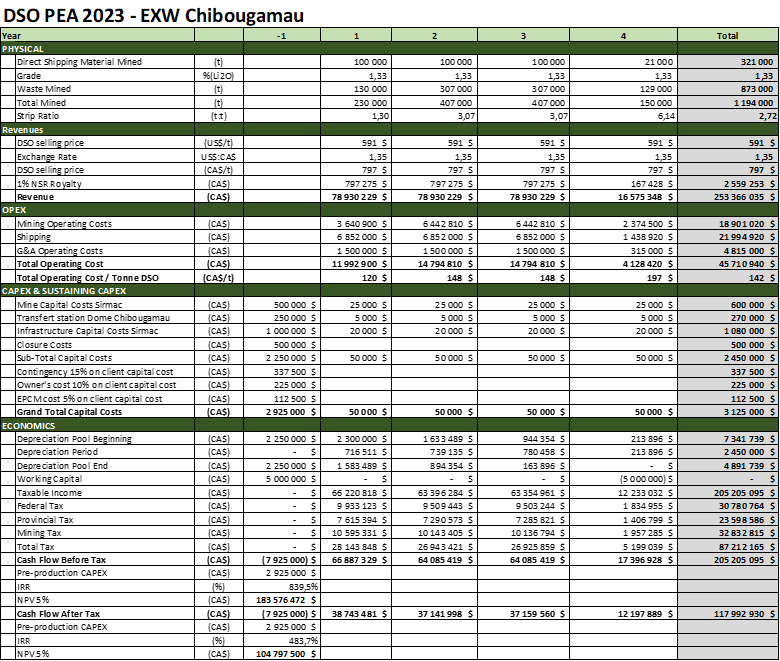 Notes:
There has been no mineral or ore reserve estimate developed. The PEA is based on low-level technical and economic assessments that are not sufficient to support the estimation of mineral or ore reserves. Although almost 90% of the Mineral Resources are in the Measured and Indicated categories, there is no certainty that further exploration work will result in the determination that the production targets underlying the PEA will be realised. Further evaluation work and appropriate studies are required to establish sufficient confidence that any PEA production targets or financial forecasts contained in the PEA will be met.
Vision Lithium recently repurchased the underlying net smelter return royalty on the Sirmac Project. The economic analysis was completed before the repurchase transaction and has not yet been adjusted.
Figure 2. Sensitivity of NPV5 for the Base Case before taxes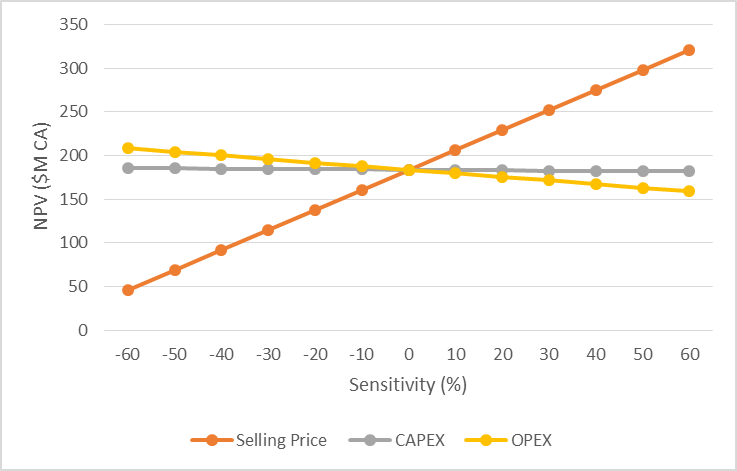 Figure 3. Sensitivity of IRR for the Base Case before taxes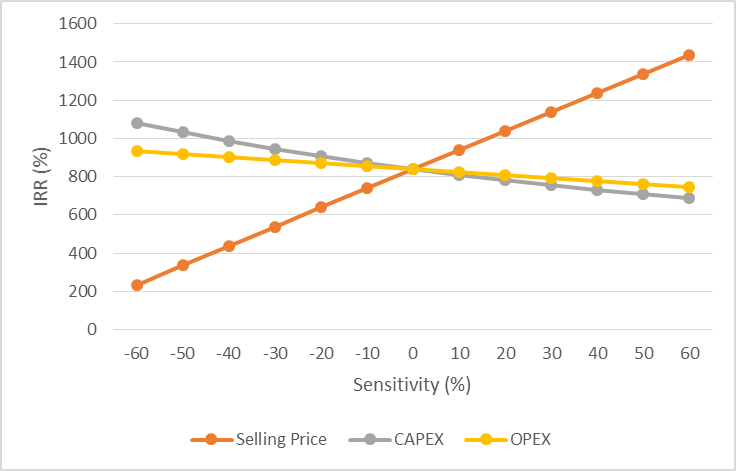 Additional information is provided in the Technical Report.
Recommendations and Opportunities
The project has good grade and positive metallurgy, moreover the material is mostly above ground and uphill away from creeks and lakes which makes it a favorable environment for rapid development.
GoldMinds suggests proceeding with the extraction of a 50,000t bulk sample while preparing a pre-feasibility study or a feasibility study to obtain permits and a mining lease for the entire deposit.
Reader should note that the #5 Dike area of the property is not affected by a recently proposed protection zone for woodland Caribou.
Attention should also be placed on valuation and testing of Rubidium in pegmatite Dike #5 as the amount is significant and could add significant value to the project. (Rubidium 1-gram ampoule 93.40 US$ in 2021 source USGS report).  Average Rubidium in the assays of the #5 mineralized dike is 943 g/t. More work is required to identify the distribution of Rubidium. It is not included in the Mineral Resources at this stage, nor is Tantalum which deserves attention as well.
QA/QC
The database received by Vision from SGS Geostat contained assay results for 1,747 samples. Added to the total assays, there are 60 standards (3.4 % of the samples), 79 duplicates (4.5 % of the samples) and 78 blanks (4.5 % of the samples). Standards of high and low-grade lithium were used with blanks. These results were verified by GoldMinds. Moreover, analysis of independent samples from Desharnais et al. were also verified and there was no bias as well. GoldMinds took independent samples in the field on channel samples and on new core of Vision Lithium as well. Results were in line with expected values and have not shown bias. The data has been verified in its form, grades, interpretation as well as interpolation parameters and classification and the block model is considered current, as there is no material change in that aspect. GoldMinds' qualified persons endorse the work done by SGS' qualified persons. The verifications of GoldMinds allow the disclosure of this study and news release.
Qualified Person
The technical content of this news release has been reviewed and approved by Claude Duplessis, P.Eng., and Daniel Dufort, P.Eng., both of GoldMinds Geoservices Inc. and qualified persons as defined by NI 43-101.
About Vision Lithium Inc.
Vision Lithium Inc. is a junior exploration company focused on exploring and developing high quality mineral assets including lithium and copper in Canada. The Company is led by skilled and qualified mineral exploration experts and business professionals with a deep understanding of the battery materials market, which is driven by lithium-ion batteries. Vision Lithium is committed to discovering new, world-class assets and bringing these assets to production, starting with its advanced Sirmac lithium property in Quebec and Godslith lithium property located in Manitoba; its greenfield Cadillac lithium and Decelles lithium properties in Quebec, and a group of base metal rich Ni-Cu-Co and/or Cu-Zn-Ag-Au properties in Eastern Quebec and New Brunswick.
For further information on the Company, please visit our website at www.visionlithium.com or contact us at [email protected].
Neither the TSXV nor its Regulation Services Provider (as that term is defined in the policies of the TSXV) accepts responsibility for the adequacy or accuracy of this release.
 CAUTIONARY STATEMENT REGARDING FORWARD-LOOKING INFORMATION: All statements, other than statements of historical fact, contained in this press release including, but not limited to those describing the impact of the foregoing on the Sirmac Project economics, PEA results (as such results are set out in the various tables featured above, and are commented in the text of this press release), including CAPEX, OPEX, NPV and IRR, the estimated value of the Sirmac Project, operations development scenarios for the Sirmac Project, commercial and technical parameters, the attractive economics for the Sirmac Project, life-of-mine plans, market trends, future lithium prices, the impact of the Sirmac Project on the local communities, including job creation, the timelines and costs related to the various initiatives, deliverables and milestones described in this news release and their expected results, the Company's expected financial and operational performance, the nature of relationships with stakeholders such as the local community including the Mistissini Cree First Nation, mineral resource estimates (including assumptions and estimates used in preparing the mineral resource estimates), the general business and operational outlook of the Company, the Company's future growth and business prospects, the Company's initiatives and goals, and those statements which are discussed under the "About Vision Lithium Inc." paragraph and elsewhere in the news release which essentially describe the Company's outlook and objectives, constitute "forward-looking information" or "forward-looking statements" (collectively, "forward-looking statements") within the meaning of applicable Canadian securities laws, and are based on expectations, estimates and projections as of the time of this news release. Forward-looking statements are necessarily based upon a number of estimates and assumptions that, while considered reasonable by the Company as of the time of such statements, are inherently subject to significant business, economic and competitive uncertainties and contingencies. These estimates and assumptions may prove to be incorrect. Moreover, these forward-looking statements were based upon various underlying factors and assumptions, including the current technological trends, the business relationship between the Company and its stakeholders, the ability to operate in a safe and effective manner, the timely delivery and installation at estimated prices of the equipment supporting the production, assumed sale prices for DSO, the accuracy of any mineral resource estimates, future currency exchange rates and interest rates, political and regulatory stability, prices of commodity and production costs, the receipt of governmental, regulatory and third party approvals, licenses and permits on favorable terms, sustained labor stability, stability in financial and capital markets, availability of equipment and critical supplies, spare parts and consumables, the various tax assumptions, CAPEX and OPEX estimates, the Sirmac Project permits' status, all economic and operational projections relating to the project, local infrastructures, the Company's business prospects and opportunities and estimates of the operational performance of the equipment, and are not guarantees of future performance.
Forward-looking statements are subject to known or unknown risks and uncertainties that may cause actual results to differ materially from those anticipated or implied in the forward-looking statements. Risk factors that could cause actual results or events to differ materially from current expectations include, among others, delays in the scheduled delivery times of equipment, the ability of the Company to successfully implement its strategic initiatives and whether such strategic initiatives will yield the expected benefits, the availability of financing or financing on favorable terms for the Company, the dependence on commodity prices, the impact of inflation on costs, the risks of obtaining the necessary permits, the operating performance of the Company's assets and businesses, competitive factors in the lithium mining and production industry, changes in laws and regulations affecting the Company's businesses, political and social acceptability risk, environmental regulation risk, currency and exchange rate risk, technological developments, the impacts of the global COVID-19 pandemic and the governments' responses thereto, and general economic conditions, as well as earnings, capital expenditure, cash flow and capital structure risks and general business risks. Unpredictable or unknown factors not discussed in this cautionary statement could also have material adverse effects on forward-looking statements.
Many of these uncertainties and contingencies can directly or indirectly affect, and could cause, actual results to differ materially from those expressed or implied in any forward-looking statements. There can be no assurance that forward-looking statements will prove to be accurate, as actual results and future events could differ materially from those anticipated in such statements. Forward-looking statements are provided for the purpose of providing information about management's expectations and plans relating to the future. The Company disclaims any intention or obligation to update or revise any forward-looking statements or to explain any material difference between subsequent actual events and such forward-looking statements, except to the extent required by applicable law.
For additional information, please contact:
Victor Cantore

Executive Chairman

Tel: 514-831-3809

Email: [email protected]

Yves Rougerie

President and Chief Executive Officer

Tel: 819-316-0474

Email: [email protected]